It's the time of the year again when you decorate your home with tasteful witch-craft-inspired motifs and skull ornaments, cuddle with your pets and watch a spine-chilling movie, and bake delectable Halloween-themed confections that simply melt in your mouth.
But apart from the usual sugar rush you'll get from these terrifyingly tantalizing horror-themed treats, there are many other ways to elevate this experience. Along with pumpkin-spiced cookies with skulls and cobwebs, how about switching things up a bit and making CBD-infused treats?
Halloween can be made so much more fun with CBD edibles. You can host fun costume parties with your friends and indulge in gruesome Halloween hors d'oeuvres, or just eat soft CBD cookies by yourself!
Ready to treat yourself to some mouth-watering spooky treats? Read ahead to learn about the most wickedly good CBD-infused Halloween treats that you can make at home.
1. Delightfully Gooey Pumpkin-Swirl Brownies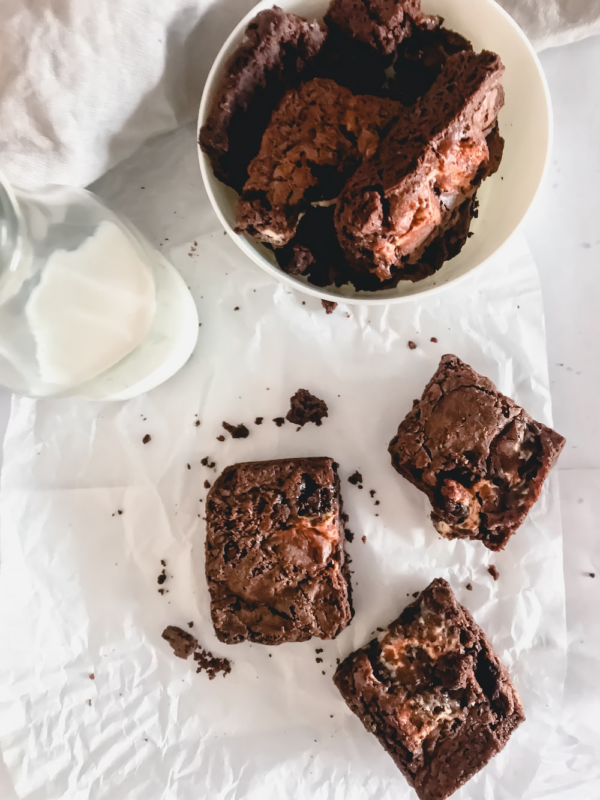 Chocolate and pumpkin are a winning combination when it comes to making delicious creamy brownies. But when you throw CBD in the mix, you're in for a treat.
And who doesn't love CBD baked into brownies? One of the best parts about CBD is that it can be baked into anything. CBD can easily dissolve into oil and butter. All you need to do is heat them and mix them in CBD oil or isolate.
Ingredients
8 tablespoons of unsalted butter—you'll require more for the pan.
6 ounces of bittersweet chocolate – chopped
½ cup cocoa powder
1/3 cup maple syrup
2 cups all-purpose flour
1 teaspoon baking powder
½ teaspoon salt
1 ¾ cups sugar
4 large eggs
¼ cup vegetable oil
1 tablespoon pure vanilla extract
1 teaspoon ground cinnamon
½ cup chopped hazelnuts or nuts
¼ teaspoon ground cinnamon
¾ cup pumpkin puree
6 personal servings of CBD of your choice
Directions
Step 1: Preheat the oven to 350 degrees. Coat an 8×8 pan with the butter of your choice and line its bottom with parchment paper.
Step 2: Set a bowl over a pan of simmering water and melt chocolate and butter together. Stir occasionally until the mixture is completely smooth.
Step 3: In a bowl, whisk together flour, salt, and baking powder. Put the mixture aside. In another bowl mix in sugar, vanilla, and eggs and use an electric mixer to combine until fluffy. This might take 3 to 5 minutes. Once done, you can mix in the flour mixture.
Step 4: In another bowl, mix the pumpkin puree, oil, cinnamon, and nutmeg. Transfer this and the chocolate, CBD, and butter mixture to the batter and stir.
Step 5: Bake for 40 to 45 minutes. Let it cool before you cut it into squares. Enjoy!
2. Ghostly Chocolate-CBD Cookies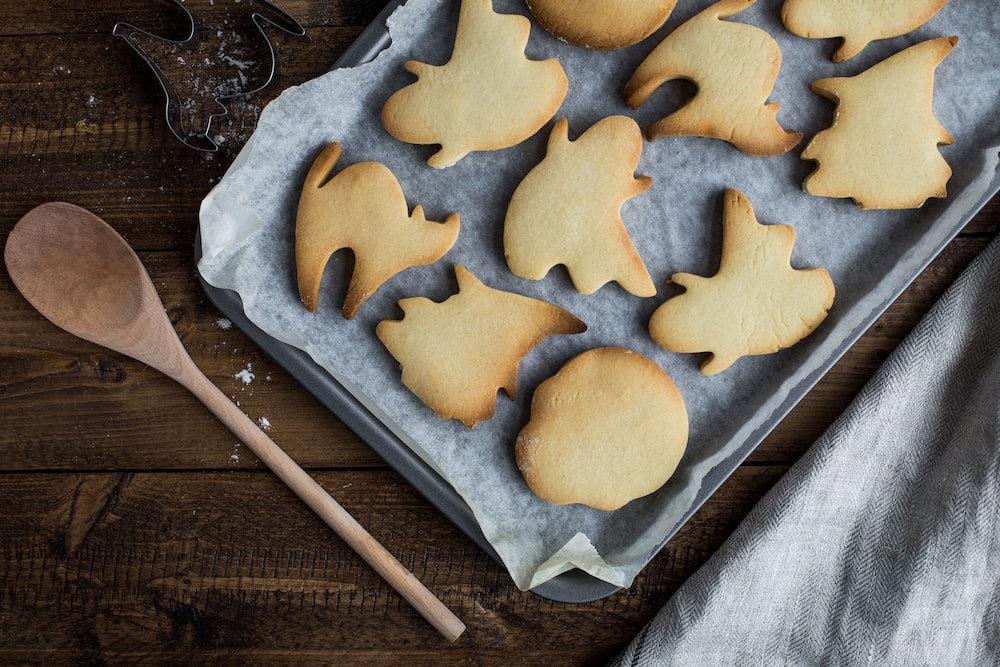 It's time to start new Halloween traditions with CBD-infused chocolate cookies in the shape of bats and ghosts.
Ingredients
1 ½ cups of all-purpose flour. You will require a bit more for cutting and rolling out the dough
½ teaspoon salt
¾ cup unsweetened cocoa powder
1 cup softened butter
1 cup white sugar
1 cup brown sugar
2 eggs
1 ½ teaspoon vanilla extract
½ teaspoon CBD oil
1 teaspoon baking soda
Small candies for decorating (optional)
Directions
Step 1: Preheat oven to 350 degrees. In a bowl, mix flour, cocoa powder, and salt.
Step 2: Using an electric mixer, blend together butter and sugar until the mixture starts to look light and fluffy. Add the eggs and the flour mixture. Keep the mixer on low speed and add in vanilla extract, CBD oil, baking soda, and salt. Combine until the dough is ready.
Divide the dough into half and make two ¾ inch thick disks. Wrap these disks in plastic and place them in the refrigerator to chill until the dough is firm.
Step 3: Flour a sheet of waxed paper and roll the dough into a ½-inch thick disk with a floured rolling pin.
Step 4: Use Halloween cookie cutters and cut out your favorite spooky shapes. You can dip the cookie cutters in flour to prevent them from sticking to the dough. Place them on the baking sheet one inch apart and bake for ten to fifteen minutes.
3. Velvety CBD Chocolate Bark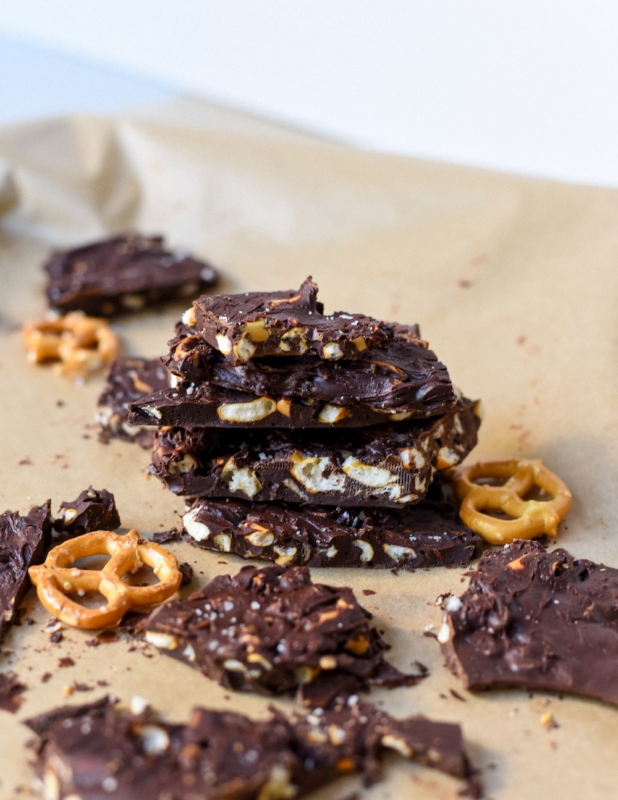 What better way to enjoy CBD if not in chocolate? Try this decadent recipe to create the most delicious morsels of CBD-infused chocolate bark.
Ingredients
Vegetable oil cooking spray
White, milk, or bittersweet chocolate
CBD oil of your choice
Directions
Step 1: take a 9-by-12 ½ inch baking sheet and coat it with cooking spray. Once done, line it with parchment paper.
Step 2: Melt chocolate in a heatproof bowl by setting it on top of a pan of simmering water. Stir until it looks smooth. This is the point when you can add CBD oil. Mix it together and pour the mixture into the baking sheet, spreading it evenly.
Step3: Sprinkle a hearty mix of your favorite colorful toppings while it's still hot. Refrigerate until it's firm to touch. Once done, peel the parchment paper off and break your chocolate bark into pieces.
Buy High-Quality CBD Products at Mary Jane's Bakery Co. Today!
Ready to make your favorite Halloween treats with CBD? Buy the highest quality CBD hemp flowers and products at Mary Jane's Bakery Co now.
We have some of the best CBD and THC product collections, including organic hemp flowers, delta-8 THC oil, delta-8 Durban Poison Vape Cartridge, CDB edibles, and more!
We ensure that all of our CBD products only have the most premium quality CBD so you can enjoy an elevated experience. Shop our products on our online store now.
Reach out to us here for questions or feedback about our products, and one of our representatives will provide you with all the details you require.