Did you know that the use of alcohol in the CBD tincture increases its shelf life to almost three to five years? CBD oil tincture is different from CBD oil; it has an alcohol base while the latter has an oil base. Tinctures are also less potent than CBD oils, which are a mixture of hemp extracts and inert carrier oils.
Ingredients in CBD Oil Tincture
A CBD tincture is a herbal extract made using 60 to 70 percent distilled alcohol, chlorophyll, essential vitamins, oils, sweeteners, herbs, and water. In simpler words, it's a suspension of cannabidiol in alcohol. It tastes bitter, which is why you'll largely spot CBD oil tinctures with artificial sweeteners and additives that improve the taste of the mixture. Supplements or vitamins are included in the mixture to further boost the health benefits of CBD.
How to Use a CBD Oil Tincture
The primary route of administration for CBD tinctures is the sublingual method, i.e., the CBD extract is placed under the tongue where it's left to absorb into the capillaries. This method helps avoid contact with the liver.
CBD oil tinctures can also be added to edibles or beverages to enter the bloodstream after being processed by the digestive system. Additionally, CBD oil tinctures can also be infused into topical formulations for pain relief. However, they must never be vaped or smoked as the heat is likely to turn them into toxic substances; it's best to stick to dedicated CBD vaporizers and CBD vape oils for this purpose.
Calculating CBD Dosage
Because CBD oil tinctures come in a dropper bottle, it's relatively easier to start with smaller, calculated doses. Let's get a little technical here: a 40 milliliters bottles with 20,000 milligrams of CBD, gives 0.05 milliliters in each drop; so that's 1,000mg / 30mL = 500 mg/mL. Now that you know the bottle contains 500 mg of CBD per milliliter, each drop would contain 500mg/mL x 0.05mL = 25 milligrams of CBD in each drop.
Thereon, it's a piece of cake to calculate the number of drops you'd need to achieve the desired dosage. For example, if you wish to consume 300 milligrams per day, that would be 300mg / 25mg/drop = 12 drops.
The concentration of CBD tincture you need depends on the condition you're looking to treat. For example, 300 to 600 mg per day are recommended for treating anxiety, whereas up to 800 mg can be used per day to manage opioid addiction. For this reason, it's best to consult a healthcare professional for more information on treating your condition.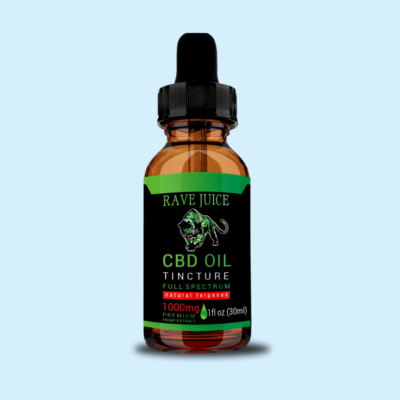 Mary Janes Bakery Co. is one of the best white label CBD companies in the United States of America that dropships wholesale CBD gummies, hemp flowers, oil tinctures, private label CBD topicals, and vaporizer cartridges.
You'll find five variants of the "Rave Juice, CBD Oil Tincture, Full-Spectrum Natural Terpenes" : 1,000, 2,000, 5,000, 10,000, and 20,000 MG. Our tinctures are made using organic coconut oil, 100 percent premium hemp-derived CBD, and vegan and third-party tested ingredients. Each dose contains 33MG of CBD, which can be administered underneath the tongue for rapid-acting relief.