The global CBD market is enormous, with an expected market size of $ 47.22 billion by 2028. Thanks to constant research and scientific innovations, CBD products have become largely diversified. Although it started from oils and tinctures, and they remain popular, the CBD edibles category seems to be a raging trend in the industry.
Candy, gummies, drinks, bars, and brownies are just some examples of the endless list of CBD edibles that people now consume. These edibles have emerged as a quick and convenient way for people to get their daily dosage.
In this blog, we'll take you through everything you need to know about CBD edibles.
What are CBD Edibles?
These edibles are infused with CBD and are a type of cannabidiol you can consume. While a large part of the population still relies on the good old CBD oil, many new consumers find this a more convenient, quick, and easy way to get in their daily dose of CBD.
Types of CBD Edibles
Generally, there are three types of CBD edibles:
Full-Spectrum
These edibles contain the entire range of a cannabis or hemp compound. Always ensure the edible contains no more than 0.3 percent THC unless you reside in a state where it's legal.
Broad-Spectrum
While this is the same as full-spectrum, there is only one major difference. This type of edible doesn't contain any THC. It does, however, contain small amounts of other cannabinoids, terpenes, and flavonoids.
Isolate
These edibles are 99.9 percent CBD. They're sourced from hemp from which the CBD is isolated to make these edibles.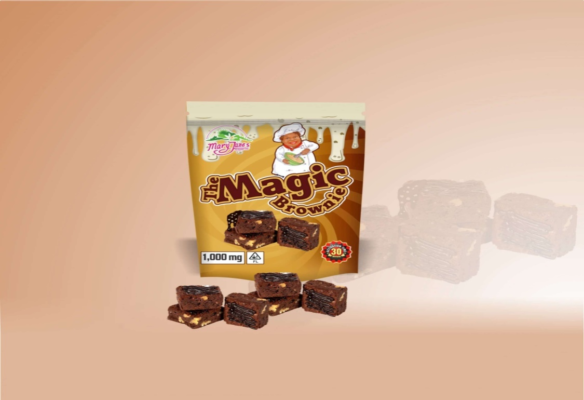 Benefits of CBD Edibles
It's easier to determine the dosage at a given time
Reduced risk of lung-related diseases since smoking is not required.
Minimal side effects, although more research is needed.
Offer convenience as you can consume them anywhere or when on the move.
Work best if you like being discreet about using CBD products.
Are available in a wide range of options, including gummies, brownies, chocolates, etc.
Although they takes longer to kick in, the influence may last longer
Buy CBD Products Online at Mary Jane's Bakery Co
There are so many concentrates and not every one of them will be the right pick for you. To pick the right concentrate to consume you first need to know what you're getting yourself into.
If you want to get your hands on premium Delta 8 THC products that you can order from the comfort of your home, check out  Mary Jane's Bakery Co. They offer delta 8 THC Vape Cartridge, delta 8 THC oil vape, and even CBD edibles.
Mary Jane's Bakery Co. is committed to providing high-quality products and educating consumers about the advantages of Delta 8 THC and CBD. They produce and distribute these products with door-step delivery and even catering through food trucks for events.
So what are you waiting for? Explore their shop for more options or contact them for more information about their products.